Grand Opening
Taurob Production Center
22 JANUARY 2024
Perfektastrasse 73a, 1230, Vienna

10 am – 13 pm
Made in Austria.
Operating around the world..
Meet the robots that help energy companies to increase safety & efficiency and reduce their carbon footprint.
We are thrilled to announce the opening of the Taurob Production Center and now it's time to unveil it to the public. Therefore we are pleased to invite you to our new facility.


We are extremely honoured to have Federal Minister Univ.-Prof. Dr. Martin Kocher (Federal Ministry of Labour and Economy) attending the event.



What to expect:

Guided tour: Get an exclusive look behind the scenes and witness the birth of our advanced robotic solutions.


Live demonstration: See our robots in action and discover how they contribute to transforming the energy industry


Meet the team: Connect with the people behind our innovative technology.


Networking: Share insights, experiences, and ideas with fellow enthusiasts in the field.


Food and refreshments: Enjoy delectable food and beverages in a relaxed and welcoming atmosphere.


Join us for a day of celebration of innovation and the future of robotics. We can't wait to share this milestone with you and embark on the next exciting chapter.

We are looking forward to seeing you!
Please RSVP by January 10th 2024 to secure your spot.
Copyright © 2023 Taurob GmbH, Alle Rechte vorbehalten
Deine Privatsphäre ist uns wichtig und wir möchten dir Tools zur Verfügung stellen, um diese zu schützen.
Weitere hilfreiche Informationen findest du in unseren:
Diese E-MAIL wurde gesendet von: Taurob GmbH
Perfektastrasse 57/7, Vienna, 1230, Wien,
Austria

This will close in 0 seconds
Industry Leading Safety Concept
Industry best practice hazard and risk analysis performed with clients and certification bodies.
This will close in 0 seconds
Software agnostic

Taurob's flexible API connects directly to a client's digital twin or seamlessly integrates 3rd party software.
This will close in 0 seconds
Long arm.
Thanks to its three joint long arm, the robot possesses a unique advantage - being able to inspect POIs that were designed for a human perspective.
This will close in 0 seconds
Battery efficiency.
The Inspector performs missions of up to 2 uninterrupted hours and recharges in only 1,5 hours to its full capacity.
This will close in 0 seconds
Stair climbing.
The Inspector climbs and descends stairs of up to 45° inclination in order to perform missions on multiple levels.
This will close in 0 seconds
Ready and reliable.
We are committed to designing, developing and long-term testing in order to achieve maximum availability in the field.
This will close in 0 seconds
ATEX certified.
The robot is intrinsically safe and fulfils requirements to function in the harshest environments.
This will close in 0 seconds
Supported by a leader.
Supported by the expertise of Dietsmann, the leading independent Operation & Maintenance specialist for continuous-production plants in the energy industry.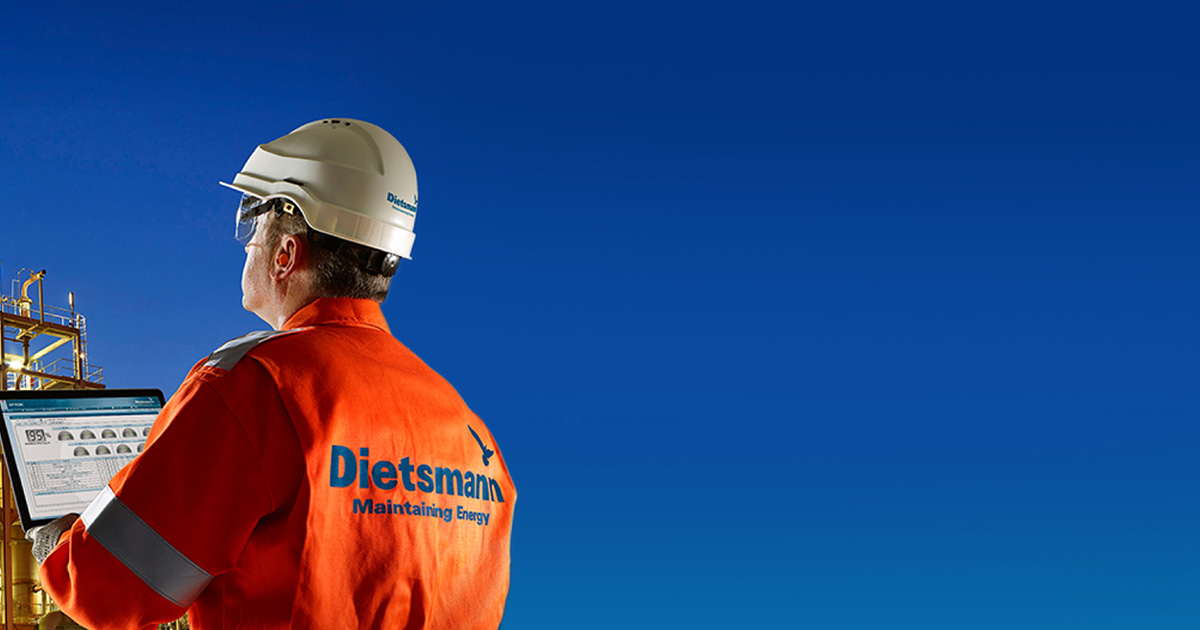 This will close in 0 seconds
This will close in 0 seconds